Apply now for a free hair transplant consultation near your area (currently in these places: London, Manchester, Birmingham, Leeds, Cardiff, Liverpool, Belfast, Bristol and Dublin) to get a hair treatment plan and get started! Get details on your hair transplant needs, an appointment and custom-made prices!
loading…
Consultation: London, Dublin, Belfast, Manchester, Bristol, Leeds, Liverpool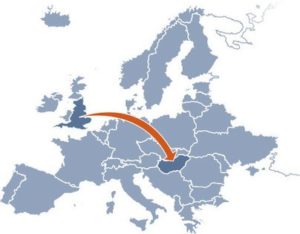 Getting your hair transplant done abroad has just become even more convenient! In order to ease the process of travelling abroad for a hair transplant, our hair clinic has set up consultation offices in the United Kingdom to ensure easy access to affordable hair transplant procedures in Hungary.
Meet with our hair specialists in the UK, get a consultation and an individualised treatment plan that is drawn up by our UK hair specialists in collaboration with our hair specialists in Budapest, so you can know exactly what to expect when you arrive to our hair clinic.
Our clinic strives to make your hair transplant procedure as affordable and as convenient as possible; therefore, should you decide to have your hair transplant procedure in Hungary, you can visit one of our 8 consultation offices in the UK to get a free evaluation, a price estimate and a treatment plan. Once your treatment plan is drawn up, you can fly to Budapest to undergo the required hair treatment.
Why get a hair transplant in Budapest, and why choose our hair clinic?
World-class expertise in hair transplants. We are one of Europe's leading hair transplantation clinics, and we successfully treat hundreds of British patients every year. In an effort to provide the best services possible, we ensure that our customers are always satisfied with the results.
Affordability with no compromises. Compared to hair transplant prices in the UK, the prices at our hair clinic in Budapest are much lower. Our hair loss treatment services are at European-level standards, which means that you can get all the same services at the same quality as in the UK, but at a much more convenient price.
Modern hair transplant services within easy reach. Whether you're in London or in Bristol, flying to Budapest is easy. With low-cost airlines operating direct flights to Budapest from most of Europe, getting to our hair clinic in Budapest is fast, simple, and affordable.
Consultation in UK, treatment in Budapest for ultimate convenience. Make an appointment at one of our 8 consultation offices in the UK, and get a free evaluation and an individualised treatment plan, then fly to Budapest to get the treatment you need. Save time and even more money on travelling, by getting a hair transplant consultation in the UK.
Pain-free and scar-free procedures. Because we want our patients to have the smoothest and the most relaxing hair transplant procedure, we make sure that the hair transplant techniques we use are minimally invasive and pain-free. Harvesting of the hair follicles in done under local anaesthesia and the procedure leaves no visible scarring.
Natural look and feel guaranteed! We understand your struggle with hair loss, thus, our hair specialists make sure that the hair grafts are placed in a way that they mimic your natural hair growth pattern and the hair density you once had. We pride ourselves with our commitment to excellence in each and every case.
Hair transplant packages with accommodation. Following the consultation procedure, you have the option to you choose from our conveniently devised hair transplant packages that include accommodation at our 4-star partner hotel during your treatment.