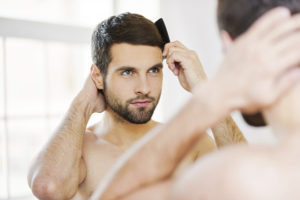 Hair loss is a condition that affects men and women alike. When faced with hair loss issues, thinning hair or baldness, seeking out immediate and permanent solutions is something that people instinctively do, especially if other treatment methods have all failed to bring the much-coveted results.
In the public conscience, hair transplant has become the epitome of successful hair restoration. Hair transplant surgery, however, is not without its caveats, which means that it may not be a "one-size fits all" solution.
Apart from carefully vetting the hair clinic that you would like to have your hair transplant performed at, there are some other factors to take under advisement prior to rushing to the hair clinic of your choice. These factors aim to help you determine whether hair transplant is right for you, and whether you should resort to this procedure. They also aim to provide advice on how to address the issue of hair transplantation.
Getting hopes up – Get back the old, natural look
Promises of quick fixes should always be taken with a grain of salt. Hair transplant surgeries are not open-and-shut cases, and some clinics may get patients' hopes up by underestimating the number of surgical procedures needed to restore the patient's hair. This may lead patients to falsely believe that they can get their hair back in no-time, and be disheartened and angry when hair clinics don't deliver on their promises. Our hair clinic has testimonials, before and after images even third party reviews on TrustPilot for you to to check out.
Underestimating surgical costs
Hair surgeons will provide an estimate as per the costs of your hair restoration surgery; however, the actual final price may vary according to the number of grafts you will actually need. Prices may be set per individual hair or per graft (groups of hair), so the price can vary greatly from one clinic to another. Reputable hair clinics will inform their patients about all incurring costs and will do their best to provide a close estimate to the final price. Unscrupulous surgeons will try to lead patients into believing the costs will be as low as the estimate when, in fact, the cost may end up being much higher.
Scarring and healing time, post operative instructions
All hair transplants will produce some type of scarring that will require some healing time. There are methods like the FUE2 SafeSystem that will usually produce minimal scarring, but some patients may be more prone to scarring than others, and the healing time varies from patient to patient. Visible scarring would mostly pose problems to those who wear their hair short.
Hairline issues – Widow's peak, receding hairline
During hair surgery, hair follicles are placed in a way to mimic the natural hair pattern of the patient. Uneven hairlines are usually the result of surgical incompetency. The chances of this happening at a good clinic are virtually non-existent.
To improve receding hairlines: deciding on hair surgery implies getting all your facts straight, and getting informed about the types of procedures, possible outcomes, the risks involved, and the actual costs. Once you're satisfied will all the answers and you've decided that, indeed, hair transplant is right for you, you can go through with this procedure.
Free consultation to get scalp and hair status assessment
To get a free assessment of your hair status and custom-made treatment plan with costs and prices please apply on our free consultation page. We have consultation places in Ireland (Dublin) and in Northern-Ireland (Belfast) as well as 6 location in the UK: London, Manchester, Leeds, Birmingham, Cardiff and Liverpool.
Additional articles