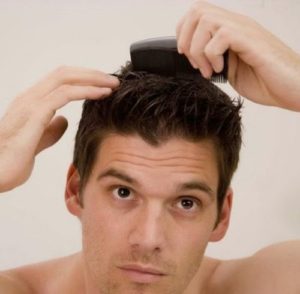 Our hair is a reflection of how healthy or unhealthy our life is. Therefore appropiate hair-care is a must for all men who would like to prevent future hair problems. There are a few easy steps to follow and you can enjoy a healthy scalp all the time. The first and most important step is to choose the proper shampoo for your own hair-type.
You can find many great shampoos made of natural ingredients in the market but not all of them are suited for your scalp. You have to experience which shampoo is the best for you and stick to that type from then.
Often changing the brands is a bad habit, since every type of shampoo includes different chemical mixtures. Too much chemicals may lead to premature hair loss and other type of hair problems.
Secondly keep away with hot water from you hair even if it feels good. Too hot water wipes out the essential oils from the scalp, which can easily cause severe dryness.
Do not forget that wet hair is even more vulnarable than dry hair. So towel drying is also a common mistake and very harmful for the overall condition of your hair. It is a method using a lot of force and leads to serious damage of the fragile hair. Instead of rubbing heavily with a towel, you have to gently stroke your hair in the same direction of growing. Hairdryer is not a good solution either as blow drying may cause the dryness of your scalp.
Another key element of a healthy looking hair is a perfect haircut. To be able to choose the best hairstyle for yourself, first you have to determine your facial features like the shape of your face. Take into consideration your workplace and your actual lifestyle. Your hairdresser can also help you to determine which haircut would work the best for you.
Altough there are no two scalps completely alike, some general categories of hair-types still can be defined: oily, dry, thin and thick hair-types are the most problematic. For men with dry hair the best solution is to use special moisturizing shampoos and deep conditioners designed for dry hair. And never use hairdryers to maintain your scalp's shine. Otherwise your hair tends to dry out and will be lifeless.
Individuals with a naturally greasy hair should reduce hair washing as frequent washing stimulates the oil glands on your hair.
The best tip for those men who have thin hair is to have a one-length short haircut. However, those who were born with thick hair, should cut their hair in layers to make it seem less. Sometimes less is more.
To find out how much hair you will need for hair implant please fill in our application form for an unbinding free hair transplant consultation! Also, if you are interested in the cost and price structure of hair transplantation abroad check out our hair implant prices page!
Related articles
Mentés